Storm Bee
The game changer!
Buy now
0-50MPH
3.6s
Rapid acceleration
RANGE
100KM+
Effective range ( on road condition )
Storm the competition
Be the best
Sur-Ron sets a new standard for high-performance electric off-road motorcycles. The Storm Bee is a work of art, meticulously crafted for power, performance, and aesthetics. Jump on board and you will feel immediately at home. Fast, agile and ready to race or ride on the streets. It's the perfect choice.
All terrain. All of the time.
Fully adjustable performance suspension system
Go the distance
The Storm Bee has an impressive 100+KM range per charge.
Extra boost
The Storm Bee features a "Turbo mode" for maximum attack. Flick the switch and hang on.
HIGH TECH SUSPENSION
The Storm Bee has high-performance, adjustable 47mm upside down front forks giving 290mm effective travel up front. The rear shock absorber gives 115mm of travel along with multiple adjustment for your riding conditions. Sur-Ron gives you the ability to fine tune your Storm Bee's suspension so you can get the max from your new bike.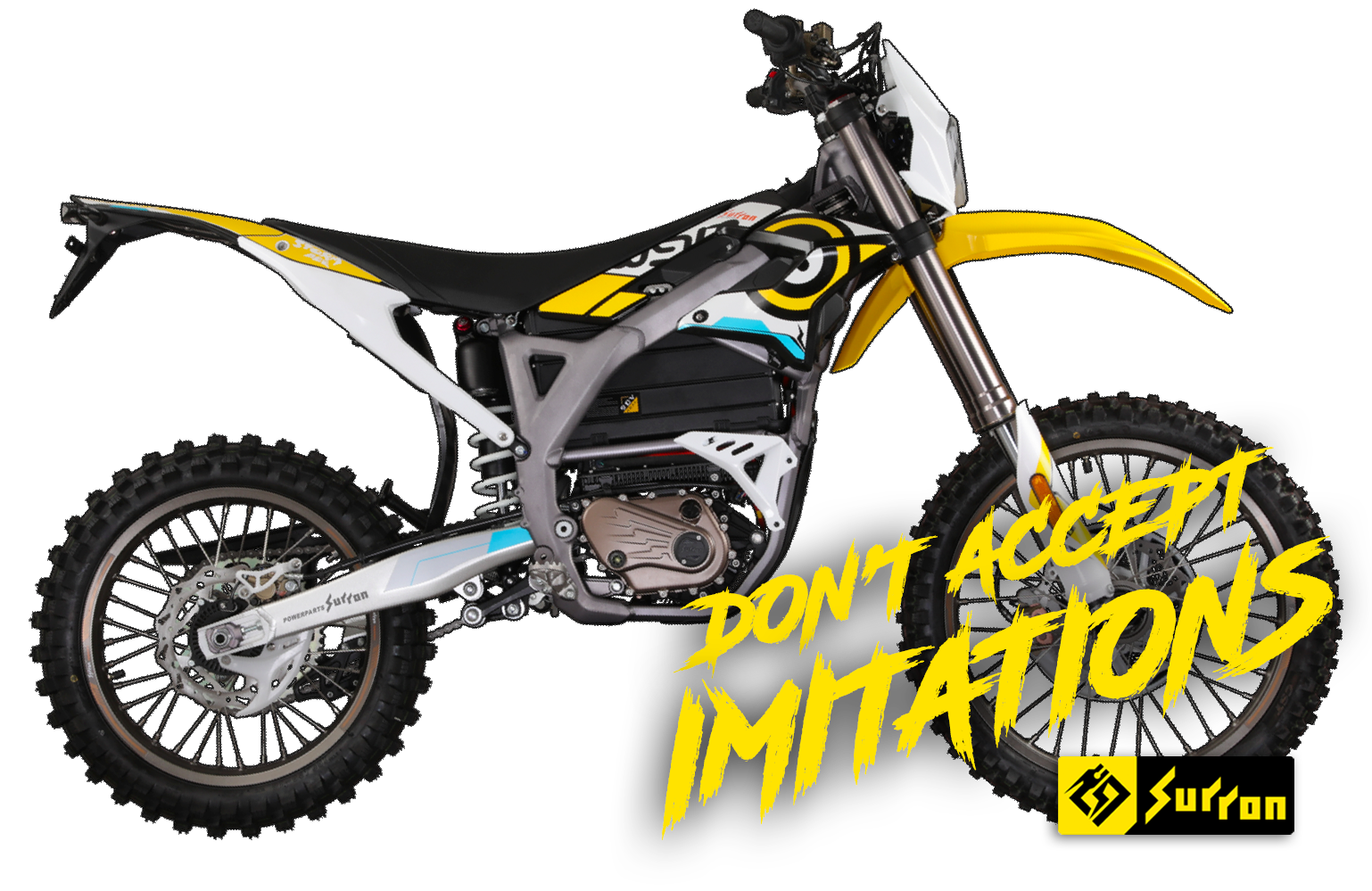 A NEW GENERATION OF POWER SYSTEM AND UNIQUE FRAME DESIGN
The Storm Bee's exclusive high-strength, lightweight frame structure and ergonomic design are built for ultimate perfomance. The Storm Bee's unsprung low weight takes advantage of the compact three-layer design configuration of the battery pack, MCU, and motor, whilst the 45° steering angle and 1430mm wheelbase improve the steering and handling for both on and off-road riding.
Choose your mode
The Storm Bee has a range of modes to ensure your performance is maximised.
Rain mode
For rainy days you need to keep your torque under control. The RAIN mode reduces the Storm Bee's power while also allowing you to use the built-in ASR ( Traction Control ) to keep the rear wheel from spinning.
Eco mode
The ECO mode reduces the power output to keep the bike as efficient as possible for maximum range, allowing you to stay on the road or track for longer.
Sports mode
Aggression mode! This is the Storm Bee's purest form, and will provide you with the best and most enjoyable experience. Pure adrenaline. Pure joy.
Turbo mode
Let the beast loose. The TURBO mode was created specifically for riders who wish to push the Storm Bee to its limits. To keep you at the front, the motor will provide strong bursts of maximum power and torque.
Reverse mode
Sur-Ron Storm Bees come standard with a reverse mode which helps you get out of those sticky situations.